Slovak food – The most precious traditional specialities
GastronomyShow me Slovakia8. March 2020
Many lovers of excellent bryndza gnocchi consider bryndza as the most precious Slovak food. However, a special recipe, domestic production and quality ingredients are the basis for many other slovak specialities that our gastronomy is proud of.
So if you want to please the resident or visitor with traditional and original Slovak food, which was also awarded worldwide, we recommend you to choose one of the below.
Foodstuffs with a protected designation of origin
Slovakia has registered several of its exceptional Slovak food in the database of original and geographical indications and several others are waiting to be registered. Such a label is considered the most prestigious quality label in the European Union.
Only 628 foods from around the world have a protected designation of origin on the packaging. The entire production of a special food must take place in a single region, which must be unique, for example due to special geographical conditions and, moreover, most of the raw materials come from. Which is why the food becomes unique and different from other foods of the same type. Slovakia already has two delicacies in this list:
Pepper Žitava
Pepper Žitava is a sweet ground paprika obtained by grinding dried fruits of Capsicum spice grown in the Danube Lowland region from state-recognized bred varieties harvested in a ripe, undamaged condition and processed by a specific method of harvesting. The pepper acquires a typical intense coloring during the last grinding stage. dyeing stone, where a typical orange-red coloration occurs.
Stupava cabbage
Part of city Stupava – Mast is known for growing cabbage and selling Stupava cabbage. The specific flavor of "Stupava cabbage" is given by the fertile soil that was once covered by the deposits of the Morava River, as well as the traditional processing process resulting in lactic fermentation in the natural outdoor environment, using only salt and without the addition of any preservatives. When such cabbage is fermented, it smells of horseradish pungency, it is flexible, crispy, white to yellowish.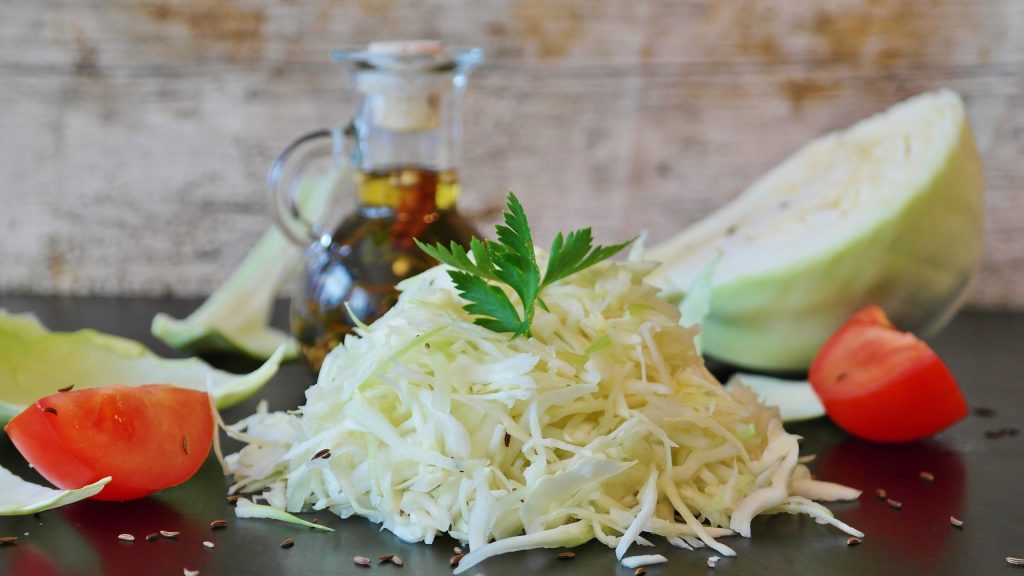 Foodstuffs with a protected geographical indication
More than 700 foods boast the EU's protected geographical indication. An inherent prerequisite is to link the product to a region in which at least one stage of the production process must take place. However, the raw materials used to produce the product may also originate in another part of the country.
Several food products are represented in this category by Slovakia. Given the alpine tradition, it is no surprise that our cheese factory has a large presence in this list. In the world, for example, Olomouc syrečky or Munich beer are protected. In Slovakia there are:
Skalica trdelnik
Skalica trdelnik is a sweet sour bakery product that is typical of the Záhorie region of Slovakia. As the first dish of the submitted traditional Slovak specialities, he managed to obtain a protected geographical indication throughout the European Union.
Bryndza
Bryndza has been consumed by our ancestors for many centuries and in the past bryndza was a major part of our diet. This is a soft, mixed and salted sheep cheese made from lump sheep cheese. This is also called Slovak white gold. According to nutritionists, this is really a health bomb.
Parenica and oštiepok
Parenica is a traditional Slovak food: semi-soft, unripe, medium-fat, steamed sheep cheese with a very delicate taste. Its shape is curled ribbon. It has a creamy to deep yellow color, the surface is golden yellow to yellow-brown after smoking.
Oštiepok is a another traditional Slovak food: Wallachian product made from sheep cheese. Originally, it is produced by cutting off fresh sweet cheese, which is pressed into a wooden, hand-carved slip-shaped round mold, where it is left to stand. It is then removed and immersed in warm salt water, letting it lie there until the salt has penetrated completely inwards; then allow to dry slightly. By staying in salt water, the spear gets its traditional durability, while its surface is slightly stinged, mostly yellow.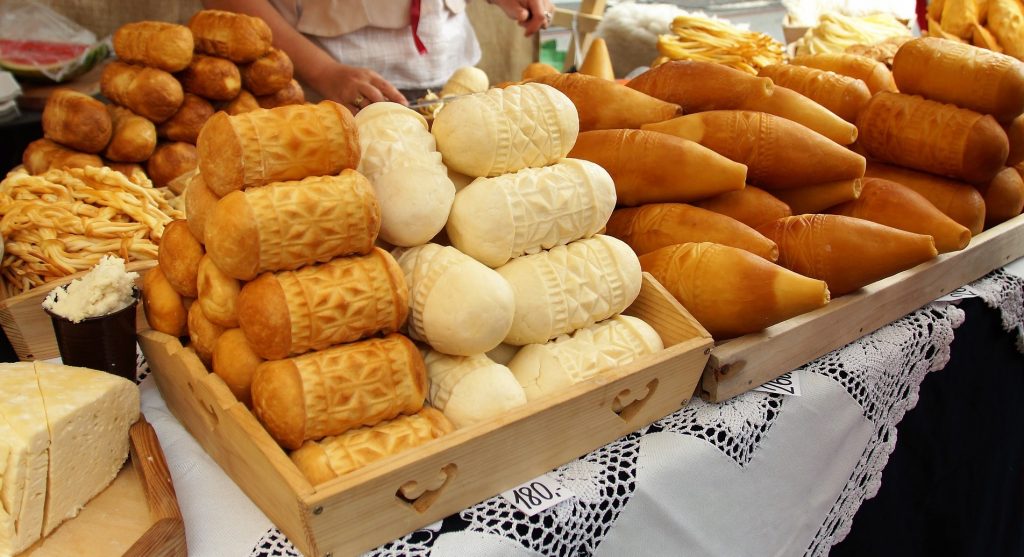 Tekov salami cheese
Tekov salami cheese is a natural semi-hard ripened full-fat cheese, smoked or non-smoked, with a cylinder length of 30-32 cm, with a diameter of 9-9,5 cm. It is produced by precipitation of heat-treated milk and subsequent processing of the cheese into a cylinder. The individual rollers are manually separated, adjusted and inspected after pressing. After salting and drying, the cheeses are individually wrapped and the smoked species is treated by smoking. The cheese has a soft, supple and elastic texture. During a relatively short ripening period, the cheese acquires a slightly acidic, strong cheese-milk taste.
Zázrivá and Orava korbáčiky
Zázrivá and Orava korbáčiky are steamed cheeses smoked or unsmoked in the shape of a mug with a length of 10 – 50 cm. They are made in the traditional way – by steaming the leavened and partially overripe lump cheese in hot water, pulling it into the shape of threads, which are traditionally called "rolls" with a thickness of 2 to 10 mm. The drawn threads are then intertwined into a mug shape.
Klenovec cheese (syrec)
Klenovec cheese (syrec) is semi-hard cheese, smoked or non-smoked, in the shape of a loaf with a diameter of 10 – 25 cm or prism. The basic raw material for production is sheep's or cow's milk. This cheese is produced directly on the shepherd's farm or on the farm. alpine production method, or in dairies, so-called. industrial production. The surface of the cheese is closed and has a special mosaic – an embossed circle with a diameter of 4 – 6 cm, in which there is a cross or cloverleaf. Klenovecký syre may have a fine bark on the surface or it may be colored green, or it may have a color from wood ash. The weight of Klenovec cheese is 1 – 4 kg.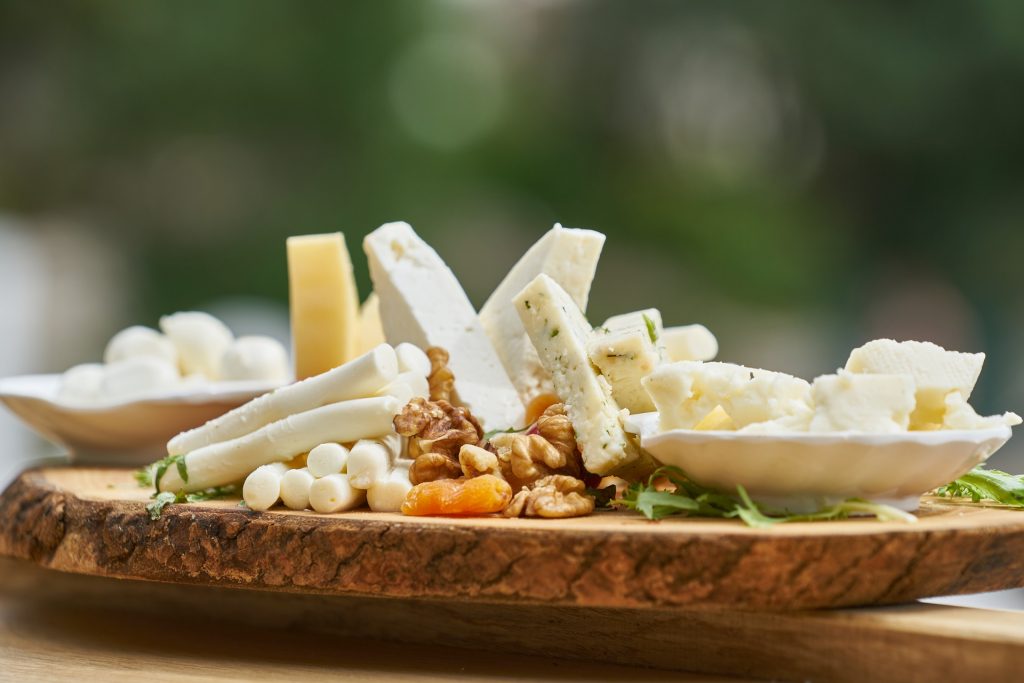 Quality mark SK
The Ministry of Agriculture distributes the indications of domestic quality, whereas the basic conditions for obtaining it are at least 75% of the content of domestic raw material and the product must be produced exclusively in Slovakia. Products already under EU protection may also apply. A total of 1221 Slovak foods have the SK quality mark.
Premium quality food can also get the premium label SK GOLD and currently has 109 Slovak producers. These include, for example, world-renowned Nitra mead Apimed, meat products by Štefan Knižka from Hranovnice and Bánovecký cream yoghurt by Milsy.
Guaranteed traditional food
The traditional specialty guaranteed must be produced in a traditional way, having a traditional composition and character. Only food that has been used on the same market for at least one human generation, ie for at least 25 years, and which differs significantly from similar products can be labeled 'traditional'.
In total, there are only 55 foods in the world registered in the register of guaranteed traditional EU specialties, among them apple pie from the UK or Italian pizza Napoletana. Seven foods are also represented by Slovakia, such as sheep's smoked cheese, sheep's lump cheese – sheep's cheese or Liptov salami.
Slovak food – Spiš sausages
Spiš sausages were born in Spišské Podhradie at the turn of the 19th and 20th century. There were three butchers at their birth: Michal Blaško, Karol Grieger and Štefan Varsányi. According to the original recipe, the Spiš sausages were salted in advance and the mixture was finely mixed by hand, stuffed only into rams, then turned into 12 cm long sausages and placed on hazel sticks and placed in a smokehouse. The sausages were subsequently cooked in hot smoke. hicovaním.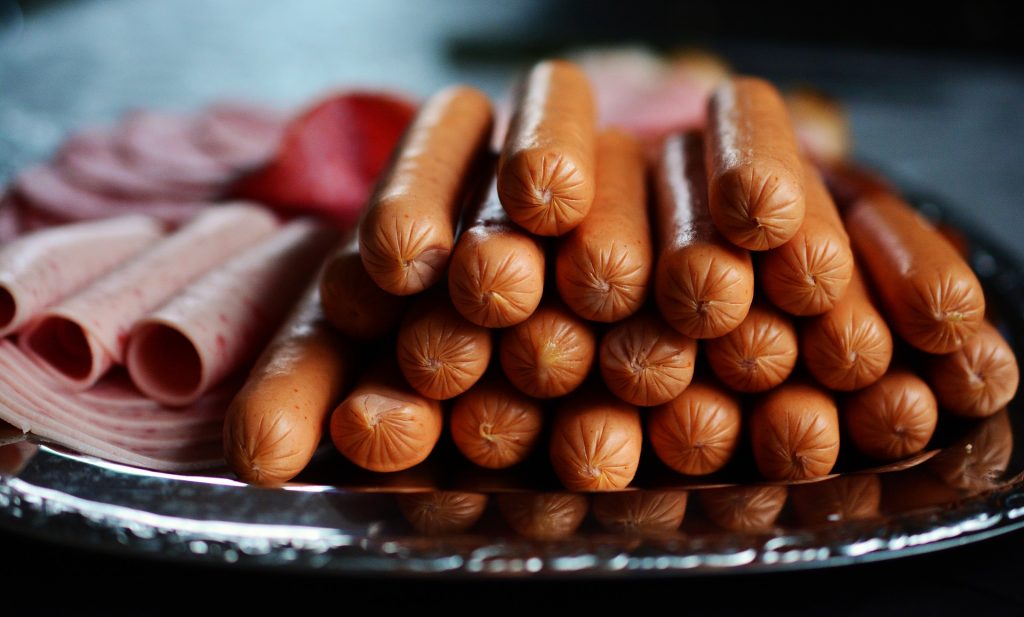 Sheep's smoked cheese and sheep's lump cheese
One of the dairy products of traditional Wallachian sheepdog is sheep's lump cheese – mountain sheep and sheep's smoked cheese. Their production was the main reason for sheep breeding in mountain regions of Slovakia.
'Sheep's lump cheese' is a cheese made from fresh sheep's milk on a shed, owing to its characteristic taste by a traditional technological process during its fermentation and its manual shaping into a lump form.
Lovecká salami, Liptov salami, špekačky
Lovecká salami
The name "Lovecká Salami" is specific in itself, as it is known in the Czech Republic and Slovakia, has a long tradition, during which it is associated with a particular durable fermented meat product of characteristic flat prismatic shape and taste.
Liptov salami
Characteristic features of "Liptov salami" are a delicate, homogeneous appearance on the cuts of the product, a delicate meat taste and aroma of used spices and smoking.
Bratislava roll
The term 'Bratislava roll' is used only to refer to a specific type of pastry or bakery. The product is specific in that it relates to a historically given composition and method of manufacture. Bratislava roll is a bakery or confectionery pastry with a marble glossy surface, filled with poppy or nut filling.