Bratislava Castle
Bratislava
Surely every visitor to Bratislava will notice the distinctive silhouette of Bratislava Castle. Castle is an important building and an essential symbol of the capital of Slovakia. It is a set of buildings in a historical complex on the left bank of the Danube. In 1961 was declared a National Cultural Monument.
Bratislava Castle experienced its golden era during Maria Theresa, who came to the throne in the second half of the 18th century. During her reign the castle was rebuilt into a splendid Baroque residence. The area around the castle was surrounded by terraces, French garden, orangery, but also a riding stables and stables. During the reign of Maria Theresa, the empire was in bloom. In particular, Bratislava has experienced considerable economic and social development.
The majestic impression of Bratislava Castle is enhanced by the hill on which it stands and in some places reaches a height of 85 meters above the surface of the Danube. At the end of the 9th century the fort had a very important position.
The last phase of the major reconstruction of the castle in Bratislava was carried out during the reign of Maria Theresa. In May 1811, the castle was devastating fire. The reconstruction of the chateau was not completed until 1968.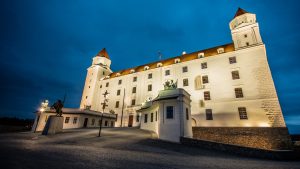 Some parts of the Castle are open to the public. These include various exhibitions of the Slovak National Museum. Theatrical performances, Shakespeare Festival and concerts are organized in the castle courtyard mostly in the open air under the stars lit in the summer.
The chateau grounds include a park where the basics of the Great Moravian basilica are depicted.
A walk in the park offers various views of Bratislava including that from the statue of Saint Elizabeth born at this Castle in 1207.
Interesting facts about Bratislava Castle
When looking at Bratislava Castle we see four towers. The truth is that the castle has only one turret, located on the southwest side. The others are just out on the roof.
The Austrian Alps are more than 100 km away from Bratislava, but you can see them from the tower of the Castle in good weather with the eye.
It is striking that from 1811 when it burned down, until 1953 when its reconstruction began, the castle was just a ruin. It was even considered to be demolished during this period.
At present, archaeological research is taking place at the Castle. Various objects were found here from the time the Celts lived here.
Castle was the seat of the most famous ruler of Austria-Hungary, Maria Theresa, who ruled here during the 18th century. She took great care of the castle and raised her 16 children here.